Arrow Truck Canopies
Arrow Truck Canopies have been manufactured by the Arrow Truck Caps folks since 1979. The company has grown to be one of the most popular truck canopy manufacturers in Western Canada.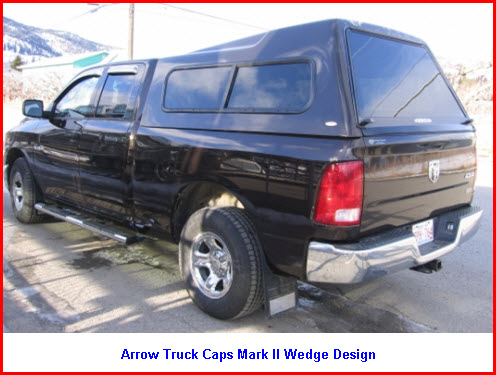 ---
And if you don't like their truck canopies, which is hard to believe, Arrow Truck Caps is also the exclusive Western Canadian distributor of SnugTop truck caps. So they're definitely a company that gives you options.

Arrow makes a full line of fiberglass truck caps which includes the Mark I, the Mark II, the Mark III and the Matrix models. Arrow says their fiberglass truck caps are constructed utilizing NASA inspired products; lots of fiberglass chop, DuPont quality paint with clear coat, extra durable windows and locking rear doors. They are into sleek styles and continuously build new molds for the newest model pickup trucks while preserving their signature designs. Arrow also manufactures a commercial aluminum model, the WorkMate, for those who use a truck cap for real work or serious play.
 So you can get a Mark I cab high design, a Mark II with a wedge design, a Mark III high rise design and the Matrix design with recessed windows and doors. All 4 designs are custom one-piece molds. Your choice. Here are some additional features, most of which are common to any of the 4 above mentioned designs, that might get you to lean towards the purchase of one of these Arrow truck canopies.

Arrow Truck Cap Features and Options
- TriCell honeycombed fiberglass roof
- Overall fiberglass construction
- Aluminum or fiberglass base rails
- Black Radius windows and doors
- Double door locks with covers
- Tinted windows are standard
- Optional OEM factory code paint
- Long, short and x-short box lengths
- Solid glass, sliders or drop down front windows
- Universal absorbent mats reduce mildew
  smells, moisture and dirt on carpeting
- Solid glass, sliders, flipper, split side windows
- Carpeted interior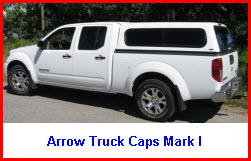 Arrow Truck Canopies - Fiberglass
Standard Features by Model


Arrow Mark I Model
- Cab High design with
  clean lines
- Black Radius
  windows & doors
- TriCell honeycomb roof
- You pick aluminum
  or fiberglass
  heavy duty base
  rail system
- Double door locks
  with covers
- Tinted windows standard
- Gas props for windows
- Optional paint to
  match OEM color


Arrow Mark II Model
- Sporty Wedge Design
- Semi Highrise profile
- other features same
  as Mark I


Arrow Mark III Model
- Very Roomy High Design
- Hauls larger loads than
  I & II
- other features same
  as Mark I


Arrow Matrix Model
- Cab High Design with close fit
- Tinted frameless recessed windows
- Heavy Duty fiberglass base rail
- Gas door props
- Interior lighting system
- Brake light included

Arrow Truck Canopies - Aluminum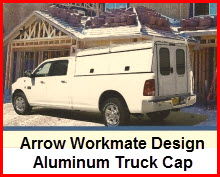 Arrow WorkMate Model Info
- Manufactured in California for Arrow
- All aluminum roofs bent to shape
- Roofs are TIG Welded
- No screw fasteners in roof
- Roof is watertight
- All seams are sealed with foam tape
- Pop rivets on trim and frames
- Standard colors are white, black, red,
  metallic gray, dove gray, champagne,
  silver frost or match OEM paint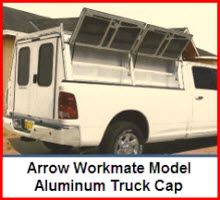 WorkMate Optional Features

- Cab height from 20" to 36"
- No window, mitered window, sliding
  window, optional security screen
- Lift door, single/double cargo door,
  hatchback door, optional windows
- Side door and window options
- Side toolbox and shelving options
- Foam insulation and carpet
- Ladder racks
- Folding T-Handles
- Vapor Barrier


Note: You must have an RSS Reader installed and configured before clicking on the Orange RSS Button. An RSS Reader allows automatic download of changes/updates made to this website without having to visit this page. Saves time, effort and keeps you up to date.


Click Orange RSS Button to Subscribe to Site Updates