Viam Car Mats
Viam Car Mats are manufactured by Viam Manufacturing, which is a world class manufacturer of floor coverings for cars, pickups, vans and SUVs.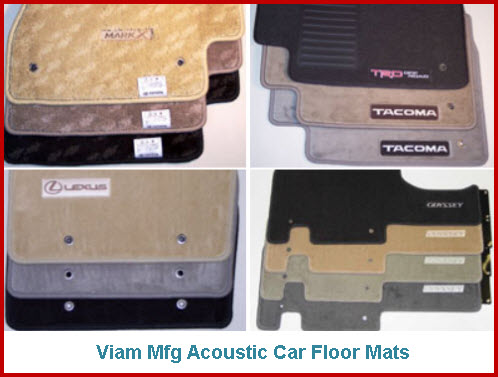 The product line includes carpeted floor mats, acoustic floor mats, all weather mats, trunk and cargo mats, trunk liners and storage partitions. 
You probably won't find Viam Car Mats in your neighborhood Walmart or Auto Zone, but you may find them in many of the new vehicles manufactured by Chrysler, Ford, Honda, Kia, Mazda, Mitsubishi, Subaru, Suzuki or Toyota. Help yourself keep these great mats clean and dry by using universal absorbent car mat protectors. You'll be able to reduce mud, stains, spill problems, gas/oil gunk and mold smells in your vehicle. Plus this type of mat protector is very easy to clean.
Viam Manufacturing's parent company is Japan Vilene Company Ltd , which was formed in 1960 as a joint venture between the Freudenberg Group and Toray Industries. Today Japan Vilene Group is Asia's largest manufacturer of specialty non-woven products. Around 1983, Viam Manufacturing was established in the USA with the construction of a plant in California. Viam Car Mats production began in 1984, a second plant was built in Tennessee in 1998 and you now find Viams floor covering products in many new model vehicles made in the USA. Viam Manufacturing even exports floor covering products back to Japans car manufacturers for their use!!! Here's a quick review of the Viam Manufacturing product line that you might find in your new vehicle.
Viam Car Mats Info
Carpeted Floor Mats

Viam Manufacturing makes Viam car mats from non-woven, tufted carpeting, primarily made from PET. In fact Viam is leading the way to a greener planet with their new PET (polyethylene terephthalate) plant scheduled to open in 2012 that makes stable carpet fiber from PET clear bottles. These car floor mats are designed to perfectly fit the interior floor pan of your new vehicle and may have these additional features:
- absorb liquids
- retain dust and dirt
- wear resistant
- remain flexible in high
  or low temps
- UV resistant
- non-skid backing
- support for vehicles
  floor anchor posts
Acoustic Floor Mats

Viam Manufacturing realized the need for a quieter car interior and by 2001 had developed a line of acoustic, sound absorbing car mats for use in the Toyota Lexus. I guess it makes it easier to listen to the cell phone and the GPS!


All Weather Mats

And, for all of us that are into the kinky feel of a rubber car floor mat, Viam provides a line of all weather car floor mats designed to keep your floor dry and clean. These mats are also molded with the name and/or logo of the new car model you just bought - just to keep things straight.


Why does Viam have a page ???

Most of the other manufacturers in this review make replacement floor mats for your car, pickup, van or SUV. Viam makes floor mats for new vehicles that you can't really purchase as a replacement item, except through your car dealer. But Viam is a great example of a company that manufactures products that are exported globally yet still operates and survives in the sometimes prohibitive US regulatory environment. Besides the new PET plant I talked about above, Viam does things with partners like Toyota to make returnable, reusable shipping pallet systems that save a lot of wood each year. Something tree huggers everywhere should appreciate. All in all this is a company that makes plastics for our vehicles in a pretty responsible way. Hence their inclusion in this review.
Note: You must have an RSS Reader installed and configured before clicking on the Orange RSS Button. An RSS Reader allows automatic download of changes/updates made to this website without having to visit this page. Saves time, effort and keeps you up to date.


Click Orange RSS Button to Subscribe to Site Updates