VanKam Truck Caps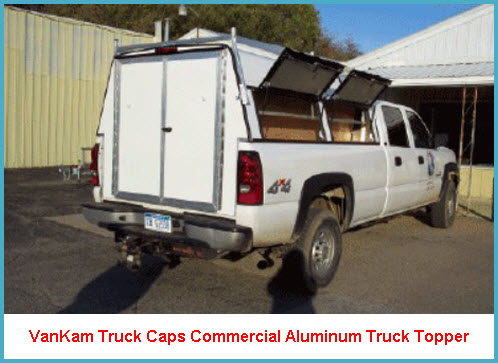 VanKam Truck Caps started out in 1966 renting RV's in Muskegon, Michigan. By the early 1970's VanKam Truck Caps was manufacturing their own commercial aluminum truck toppers and cargo trailers.
The company began distributing fiberglass truck toppers in 1979 and today is a dealer for Leer Fiberglass Truck Caps. Van Kam doesn't have any distributors or resellers but welcomes any and all interested parties to visit them in Muskegon and build your own customized commercial aluminum truck topper together. While most of you don't have the luxury of travelling to Michigan to build and buy your truck cap, this company is a great example of excellent quality work done by smaller, regional truck cap manufacturers. These guys probably have a welder that has been on the job longer than most truck cap manufacturers have been in business! And any of you in the Muskegon Michigan area should give these folks your first look and greatest consideration. Here's some of the features you can expect to see in a Van Kam aluminum truck cap.


VanKam Truck Caps Features
Commercial Aluminum

- Heavy duty bows for a strong roof & structure
- Heavy duty welded aluminum sheet covering
- Paint matched to the OEM color of your pickup
- Custom doors and windows
- Slider & tilt windows
- 56" side doors available
- Single & double rear cargo doors
- Tinted glass optional
- Tool box & shelving options
- Double side access doors
- Boxed in side tool bins
- High quality latches and hinges
- Raised roofs available
- Cab High and Wedge designs
- All kinds of roof racks
- Raised roof with triple roof rack
- Rear brakes light
- Interior lighting options
- Available for almost all pickup models
- Custom built for large or small pickups
- Personalized service from beginning to end
- Economical alternative to fiberglass truck caps
- Use universal absorbent floor mats to reduce
  moisture, dirt and mildew smells on your cabs
  carpet and on the truck bed floor
Note: You must have an RSS Reader installed and configured before clicking on the Orange RSS Button. An RSS Reader allows automatic download of changes/updates made to this website without having to visit this page. Saves time, effort and keeps you up to date.


Click Orange RSS Button to Subscribe to Site Updates