Unicover Truck Caps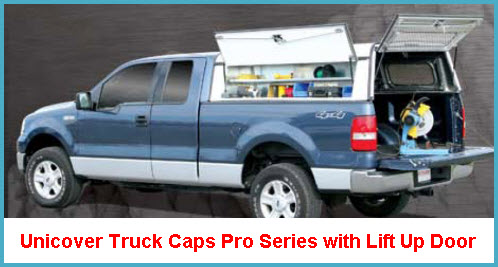 Unicover Truck Caps has been making best in quality, best in value and best in good looks aluminum truck caps for over 30 years. So if you have need of a heavy duty commercial work cap or a seriously rugged topper for recreational purposes, Unicover has the truck cap for you. Unicover also carries a very nice line of fiberglass truck caps from Jason Truck Caps .

 Unicover Truck Caps manufactures two primary product lines of aluminum truck caps. The first line is the Standard Aluminum Cap Line. Designed for a hard day at work or serious play the 8 aluminum truck cap models in the Unicover Truck Caps Standard Line differ basically in their side and rear door configurations. The second product line is the Pro Series Caps which consists basically of 4 different models differing in the rear door configuration. In either case you may find that universal absorbent floor mat protectors help you reduce the cleanup associated with liquid spills, mud and gunk attack, mold smells and mildew growth. So lets cut to the chase and get into some detail on all the models.


Unicover Truck Caps - Aluminum
Model 100
- Screened awning windows
- Optional bi-level roof & walk in door


Model 400
- Stationary window on each side
- Plus screened awning window on each side


Model 600
- Radius sliding windows with screens


Model 700
- Full vision slider windows with screens


Model 800
- 44" side door on each side, gas props
- Plus a screened awning window on each side


Model 1000
- Two 44" side doors on each side, gas props


Model 1100
- Two stationary glass windows on each side
- Plus a screened awning window each side


Model 1200
- Most economical of Standard aluminum caps
- One 52" stationary window per side

---
Options for Unicover Truck Caps
- Increase cap height for added storage
- Choose side windows & rear doors
- Lots of roof racks light/heavy duty
- Match OEM paint
- Front slider or Radius window available
- Optional Radius Lift-Up doors
- Choice of walk-in rear door styles
- Additional roof bows for added strength
- 12V dome light
- Carpeted headliner
- Galvanized steel tool boxes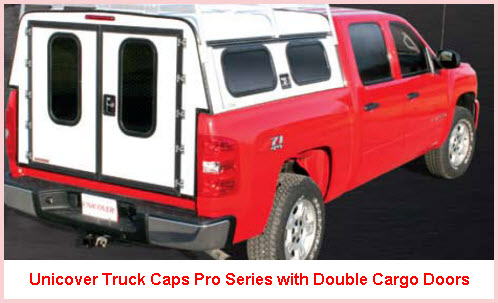 Unicover Truck Caps - Pro Series
Common Features
- Made of .040" gauge aluminum
- Heavy duty mounting rails
- TIG welded aluminum frames
- Marine quality hinges on rear doors
- Folding T-Handle 3 point latching system
- OEM grade lock cylinders
- Gas door props for easy open & close
- LED rear brake light
- Protective inner liner on side doors
- Protective inner liner on rear doors
- Black trim


Lift Door Model
Cab High model with lift up door that secures the rear tailgate. An inner plastic liner protects the side doors.


Hatch Back Door Model
The Hatch Back door model is popular with the optional bi-level roof that offers improved aerodynamics, greater storage and easier access.

Double Cargo Doors Model
Double cargo doors for easy access makes this model a great choice. With an optional increase in the height of the cap this model lets you load and unload significantly larger items.


Walk-In Door Model
The walk-in door model is like the double cargo door model but with just one big rear door. The optional 30" high cab provides additional work and cargo area and … you only gotta open 1 door!!!


Options
- Additional cap heights
- Front window options
- Various rear and side doors
- Double side doors
- Galvanized steel tool boxes
- All kinds of shelves and dividers
- Skid resistant rubber mat
- OEM matching base coat & clear coat
- Door stop retainers
- Tinted glass on windows
- 12V dome light
- Battery operated dome light
- Utility racks and ladders options





Note: You must have an RSS Reader installed and configured before clicking on the Orange RSS Button. An RSS Reader allows automatic download of changes/updates made to this website without having to visit this page. Saves time, effort and keeps you up to date.


Click Orange RSS Button to Subscribe to Site Updates