Intro-Tech Luxury Floor Mats
Note: As of 19-Jan-2017 we have observed that IntroTech no longer manufactures and distributes this mat. Rather it is made and distributed by Designer Mat International, a company associated with IntroTech. This page has been preserved for historical reference purposes only.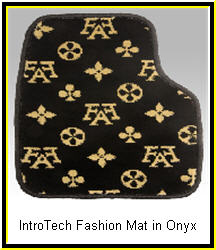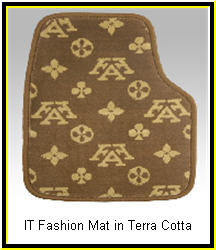 ---

Luxurious Floor Mats make or break the elegant and sophisticated feeling you get when you step into your Toyota or other high end vehicle. These mats are so thick and plush you might have to have your Toyota's floor lowered so your knees don't hit the steering wheel!
Don't leave that feeling you need up to chance. Check out the super luxurious Fashion Auto Mat floor mats from Intro-Tech and let the automobile aficionado come out in you! These mats are made of extra plush 114 oz. polypropylene carpeting that has superior stain resistance and are long wearing. They are double serged around the edges with matching or contrasting yarn to create your own sense of elegance. A nibbed backing prevents these mats from slipping on your vehicle's carpet. These car mats come in four uniquely colored fashion statement patterns.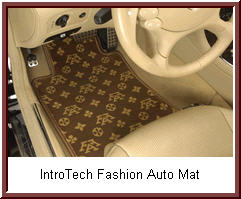 Fashion Auto Mats Features:
- carpet almost feels like wool
- fashionable design in 4 colors
- stitched vinyl edges
- made from 114 ounce
  polypropylene carpet
- 10,000+ custom fit patterns
  makes sure you get a great
  fitting car mat
- unmatched sophistication
  and fashion
- Lifetime Warranty
- Made in the USA



Tip: Keep these expensive and beautiful mats clean, reduce stains and mold/mildew smells with universal absorbent car mat protectors.


Note: You must have an RSS Reader installed and configured before clicking on the Orange RSS Button. An RSS Reader allows automatic download of changes/updates made to this website without having to visit this page. Saves time, effort and keeps you up to date.


Click Orange RSS Button to Subscribe to Site Updates