SofTopper Truck Caps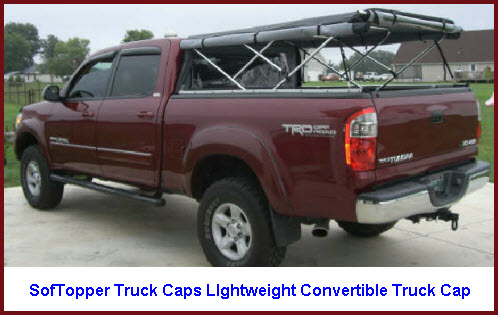 SofTopper Truck Caps are a most unusual and welcome entry in the truck cap marketplace. The concept of a lightweight convertible truck cap was made a reality in 2000 with the formation of SofTopper. The company started out making a single model of truck topper to fit compact pickups and now offers 24+ models that fit 85%+ of all pickups on the market today.

What makes SofTopper Truck Caps different? Most truck toppers use a rigid shell made of fiberglass, steel or aluminum. But the folks at SofTopper use an automotive grade coated convertible fabric draped over high strength aluminum folding frames and bedrails to give you a retractable truck topper that closely resembles the top on a convertible style automobile. While these lightweight soft truck toppers don't give you Fort Knox like security or let you run with 250 lbs of gear on your roof racks they do give you lightweight product with a quick install that you can use for camping and normal recreational activities. You can protect your cargo from sun, rain and snow and in a few seconds you can retract the topper and have full use of your truck bed.

Think about it, if you're camping out, laying on your sleeping bag in the back of your pickup, doing what you do, looking at the stars, and it starts to rain - it only takes you a minute or so to have a roof over your head as good as any tent you have. A lot to be said for that! Anyway here's a lot more of the features that endear SofTopper Truck Caps customers to this product :

Softopper Truck Caps
Additional Features
- Cab High protection for your truck bed
- One person to open or close
- Weighs 34 to 49 lbs depending on model
- Fully collapsible aluminum frame
- Weather tight seal keeps elements out
- Heavy duty #10 YKK zippers
- Quick no drill installation approx 45 to 60 min
- Marine grade fabric and aluminum
- Fabric coated with UV stabilized PVC
- Minimal fabric fade and shrink
- Heat sealed vinyl windows
- Seam sealer used to prevent thread wicking
- Drive at highway speeds
- Clean snow off before it accumulates
- Optional truck rack for canoes, kayaks, etc
- Optional rear mesh window kit
- Front and rear windows are standard
- Colors include black, grey and tan
- Made in Boulder Colorado, USA
- Available for Ford, Chevy, Nissan, 4Runner
- Available for Toyota, GMC, Dodge, Honda
- Available for Mazda, Isuzu, Hummer, Jeep
- 1 Year Limited Warranty on SofTopper
- 90 Day Warranty on windows
- Use universal absorbent mats to reduce mold
  smells and keep carpets and truck beds clean

---
Note: You must have an RSS Reader installed and configured before clicking on the Orange RSS Button. An RSS Reader allows automatic download of changes/updates made to this website without having to visit this page. Saves time, effort and keeps you up to date.


Click Orange RSS Button to Subscribe to Site Updates