Rubber Truck Mats
You know you like the smell of new rubber truck mats – don't you? Or, for that matter, any new rubber things! I especially like the smell of a new wet suit on a swimsuit model! Uh, oh!!! My Mommy's coming, I better get down to business!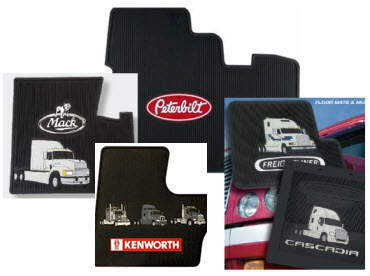 You pick a rubber truck mat for your big truck because you have a lot of water, mud or other mucky type things always getting onto your boots/shoes somehow. Who knows where all this crap comes from – it just finds its way to your footwear. So you want truck floor mats that are molded from rubber or a semi-flexible rubber like material. Raised protective borders are a great thing to have to keep the liquid mess off your carpeting. It's even nicer if the rubber mats you buy have channels or wells to trap the liquid stuff and keep it off your footwear. It's pretty important to prevent the mat from slipping on the floor – so get a mat that uses nibbed backing or anti-slip ridges.



Rubber Truck Mats - Additional Info
Ya, I know, the question you really want me to answer is where the H do you go for more info on the aforementioned mats? How about Kenworth info , the Mack Truck accessories catalog, or Peterbilt rubber floor mat info to start? Oh, what the heck, how about just checking out the Product Sales Rubber Truck Mats website! They are a sister company of Plasticolor and have a great selection of logo truck floor mats made just for your big truck.
If you still need some help and just don't know where to go, visit my Buyers Guide for Truck Floor Mats and find somebody you want to buy some sweet smelling rubber stuff from …