Raider Truck Caps
Raider Truck Caps have been made for 20+ years by Raider Industries. The company is real heavy into the advanced technology surrounding the production and curing of fiberglass, the molding and cutting of the fiberglass and the door and windows components that get inserted into the fiberglass shell that ends up being the truck cap on your pickup.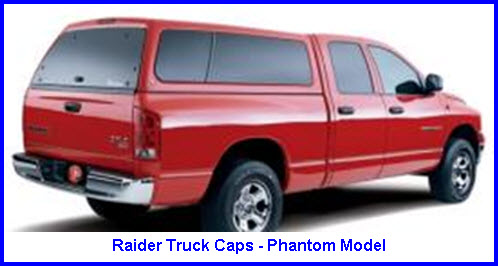 Whew, that was a mouthful! And that blurb was just for the recreational fiberglass truck caps that Raider makes. You can say just as much about the aluminum commercial truck canopies made by Raider, but I'll save that stuff for the commercial truck caps section below.
Raider Truck Caps benefits by being a subsidiary of Truck Accessories Group (TAG). TAG brings a lot of technology and manufacturing know how to the equation. You might recognize Leer, Century and Pace Edwards as some of the other premier manufacturers of fiberglass truck caps. They are all subsidiaries of TAG.

Raider Truck Caps - Fiberglass
These Raider Truck Caps use a triple bonded fiberglass roof made by joining fiberglass, resin and a tri-cell honeycomb. This makes for a very strong structure that door and window holes can be cut into with a high pressure water jet cutting tool. The fiberglass roof is molded and cured very carefully to ensure a super smooth finish for the DuPont base paint and clear coat. Just what you need to get that sleek shiny appearance.

Raider Fiberglass Truck Caps - Standard Features - All Models
- Custom fit for your pickup make & model
- Smooth gelcoat applied to mold before paint
- Custom paint DuPont base & clear coat
- Typical truck cap weight is 175 to 190 lbs.
- Fixed front window
- Double door locks (except Nomad)
- Gas props on doors
- Water jet cut door & window openings
- Supports up to 225 lbs. on roof racks
- 12V interior dome light
- Rear brake light
- Tinted glass
- Wiring harness
- Lifetime Replacement Warranty
- Rear brake light
- Fiberglass base rails
- U-Bolt or J-Bolt mounting system
- Skirted wrap over rail
- Tailgate door stop for 1999+ GMC/Chevy only

Raider Fiberglass
Truck Caps Options
for Most Models
- Reinforced fiberglass sides
- Sliding front window
- Carpeted headliner
- Various racks & tracks
- Clothes racks
- Camping/Fishing packages
- Various side and
  rear door options
- Toolboxes
Cobra Model : 
The Cobra is a mid-rise fiberglass truck cap that provides 20% more space and a couple of inches of extra height for those of us who live in our truck. You get a full height door and these extras:
- Tinted side slider windows
- Aluminum framing on rear door
- Double locks and gas props on rear door

Nomad II Model : 
This is Raider Truck Caps top of the line model. You get screens in the windows, an interior headliner and lots of other amenities: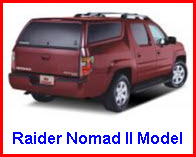 - Sport utility styling
- Raiders' new twist lock mechanism
- Tip out windows with screens
- All glass curved rear door
- Single lock, slam latch on rear door
- Carpeted headliner
- Optional keyless remote locking



Phantom Model :
Raider Truck Caps newest model. Great style at a great price.
- 1/3 side tip out window
- Frameless all glass rear door
- Single twist lock on rear door
- Optional keyless remote locking



Sierra Model :
The Sierra is a high rise fiberglass truck cap that gives you 4" or more of extra headroom and a bunch more storage area. And you get a bigger rear door along with :
- Tinted side slider windows
- Aluminum framing on
  rear door
- Double locks and gas
  props on rear door



Vagabond Model :
The Vagabond is Raider Truck Caps value leader. You get all the standard features listed above and …
- Full size 50/50 glass slider
  side windows
- Solid aluminum framed
  rear door



Vagabond Elite Model :
The Vagabond Elite gives you 50/50 side slider windows with screens and a frameless, curved all glass rear door with a center mounted handle.
- Side slider tinted
  glass windows
- Open rear door
  with one hand



Viewliner Model :
The Viewliner is Raider Truck Caps answer to the aerodynamic problem you have towing a camper or other towable vehicle behind your pickup. Its' wedge shaped design slopes up towards the rear to break the wind and it gives you more headspace and a bigger rear door. What more could you want? Oh, ya, here's a couple more features …
- Side slider tinted glass windows
- Aluminum framing on rear door
- Double locks and gas props on rear door
Keeping Your Cap's Interior Clean
My neighbor uses his truck with a Raider Cap for his lawn service business. So as you can guess he has a problem with gas and oil spills, water, mud and coffee messing up the truck bed. As I am currently using some universal absorbent car mat protectors in my truck to keep the dirt and water down in my floor pans, I generously gave him several of these mats to use in his truck. They seem to do a good job sucking up all kinds of liquids and they are easy to wash. Certainly they keep both our trucks cleaner and better smelling.

Raider Truck Caps - Commercial Aluminum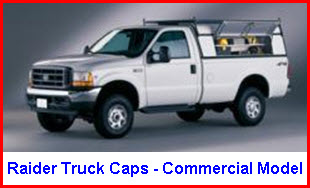 Raider Commercial Truck Caps :
Wow, what an awesomely strong and well built commercial truck cap from Raider! This commercial truck canopy comes with 5 roof bows supporting .030" gauge aluminum skin, .080" base rails, tube & flange construction and corner braces. The list of toolbox, window, door and other options is too big to list. You just gotta check out the Raider website and see for yourself.
Features:
- TIG welded frames
- Folding T-grip handles
- Aluminum tool box .063" gauge
- Heavy duty welded rear door gussets
- Mill finish parts
- Up to 43" high rear door
- Optional .040" gauge skin
- Optional windows (sliders, screens, etc)
- Optional doors (single/double walk-in & more)
- Optional tool boxes, dividers and shelves
- Optional 12V dome lights
- Optional ladder racks, headliner, roller rack






Note: You must have an RSS Reader installed and configured before clicking on the Orange RSS Button. An RSS Reader allows automatic download of changes/updates made to this website without having to visit this page. Saves time, effort and keeps you up to date.


Click Orange RSS Button to Subscribe to Site Updates