Pretty Car Mats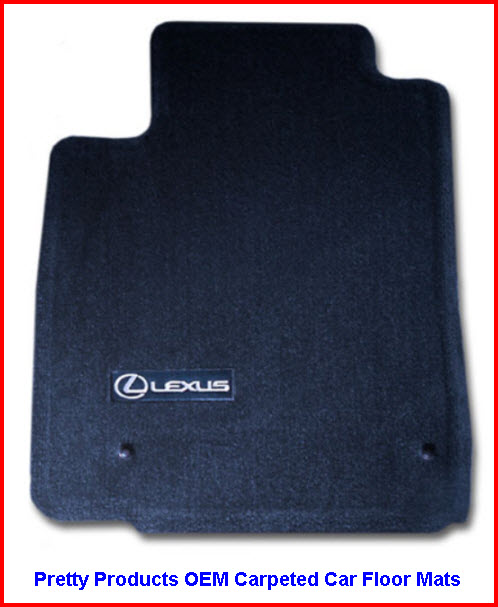 Pretty Car Mats are made by Pretty Products LLC. The company has been around since 1929. In 2008 - 2009 the automotive industry downturn forced Pretty Products to retrench. The company consolidated its manufacturing, research & development and administrative functions that were previously located in Ohio and Tennessee into their 32 acre campus in LaGrange Georgia. On June 15, 2010 the company filed for Chapter 11 bankruptcy, but continues to operate, serving their 3 major customers; Honda, Subaru and Toyota. Enough business talk, let's look at some pretty car mats from Pretty Products. Note : as of 19-Mar-2015 it appears as if Pretty Products LLC is out of business.

Pretty Products manufactures both carpeted car floor mats and rubber car floor mats depending on the needs of the car manufacturer. Both types of car mat qualify as all weather car mats and are of OEM quality. Typically the luxury vehicle lines like Lexus use carpeted car floor mats while the more utilitarian vehicles like the Subaru use the rubber car floor mats. Use a universal absorbent car mat protector to help keep these mats clean and dry. OK, here's a quick bit of info on each type of mat and some pics.

Carpeted Car Floor Mats
- Colony II Series
- Custom fit to
  the vehicle
- Grommets for
  vehicle anchor posts
- Serged or non-
  serged binding
- OEM quality backed
  carpeting
- Acoustic dampening
- Cargo mats available
- All weather
  capabilities


Rubber Car Floor Mats
- Made with TPE or rubber
- Custom fit to the vehicle
- Grommets for vehicle anchor posts
- Channels to trap water & liquids
- Raised edges to trap dirt and liquids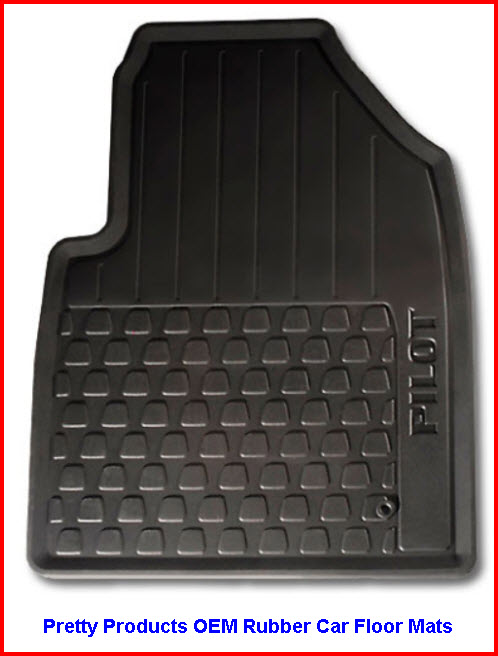 Note: You must have an RSS Reader installed and configured before clicking on the Orange RSS Button. An RSS Reader allows automatic download of changes/updates made to this website without having to visit this page. Saves time, effort and keeps you up to date.


Click Orange RSS Button to Subscribe to Site Updates