Owens Car Mats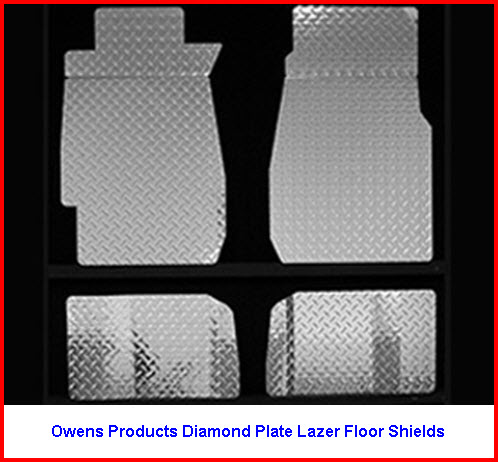 Owens Car Mats has been making 5th wheel hitches and recreational trailers since 1965. But that's not their claim to fame. Today Owens manufactures all kinds of stuff out of aluminum diamond plate, like wall switch plates, running boards, trailer tongue boxes, diamond plate tool boxes, diamond plate trash cans and more.

But, Owens Car Mats, better known as Owens Lazer Floor Shields are known to be some of the most rugged and durable floor covers you can put in your vehicle.

These car floor mats or diamond plate lazer floor shields, as Owens calls them, are pieces of diamond plate aluminum that are precisely cut (with lazers?) to match your vehicles floor board. They are basically impervious to dirt, gravel, water, wear & tear, mud, grease, tar and almost anything else you drag into your car or pickup on your boots. Clean 'em up with soap, kerosene paint scraper or whatever it takes. And, they also give a race car like look to your souped up 4 banger. Some of these aluminum car mats are hinged to match the contours of your car floor but you can't always get an exact fit and the thickness of the aluminum diamond plate does catch your shoes as you slide into the car. After awhile you get used to it and you gotta be happy that you have a floor mat that will temporarily patch a rusted through floor!
Tip: Keep these mats clean, especially on the surface to prevent soda pop spills, gas, oil, mud or other gunk from getting on your shoes. One or more universal absorbent mats will help you in this endeavor.

Note: As of 29-Mar-2015 it appears as if Owens no longer manufactures their line of diamond plate, laser cut aluminum floor mats. They are still available at Mats4Less. Get 'em while Mats4Less has got 'em.



Note: You must have an RSS Reader installed and configured before clicking on the Orange RSS Button. An RSS Reader allows automatic download of changes/updates made to this website without having to visit this page. Saves time, effort and keeps you up to date.


Click Orange RSS Button to Subscribe to Site Updates