Nifty Catch All Xtreme
Floor Mats or Liners ?
Note: As of 10-Nov-2016 this page has been superseded by our Lund Floor Liners page. This page has been retained for historical information purposes only.

The Nifty Catch All Xtreme Floor Mat is really an excellent quality floor liner. Nifty is just trying to confuse me. I mean, look at the evidence. The Nifty Catch All Xtreme is custom molded from Xynet resin to be an excellent fit for your vehicles floorpan.
Xynet is a tough, durable thermoplastic that won't crack, split or break and looks and feels like rubber. The Xtreme is almost rigid, like a liner. It doesn't have a carpeted top layer, so it's like a liner. It has high outer walls to contain liquids and gunk, like a liner. It has a heavily textured top surface, like a lot of liners. OK, if Nifty says so, I guess it's a floor mat! But it's my website, so I put it with the liners!


Xtreme Additional Info:
- grommet(s) for OEM floor
  anchor posts
- anti-slip fasteners
- hose off to clean
- 1 piece front mat available
- 3 colors, Tan, Grey and Black
- Lifetime Warranty
- Made in the USA


But guess what? Nifty does make a car mat! No maybe I'm wrong again. The Nifty Catch All Floor Mat is available in a 2 piece set for the front or as a 1 piece solution to your front floor mat problem. No matter whether you get the 1 or 2 piece set the Catch All Floor Mat or Liner uses a plush OE nylon carpet molded to exactly fit your vehicles floor pan. A patented snap fastener system keeps this mat/liner from slipping on the floor. It gives you the warmth you expect from carpet and provides a moisture barrier to protect your carpeting from snow, water, dirt and gunk.

If you have a car, truck, van or SUV, Nifty has a Catch All Floor Mat/Liner for you. There are 1000's of reviews for this product - so a heck of a lot of people have to be buying them! It just might be the mat, er, I mean the floor liner I buy next ...

You wish I were done with Nifty Mats and Liners, right? Well, I'm not. Nifty makes a product they call the Nifty Catch It Floor Protector. The Catch-It is a floor mat or floor liner that is custom molded from Vyram to fit your vehicle and comes in black, grey or tan. Vyram is a TVP (Thermoplastic Vulcanizate Plastic) and is designed to resist mud, gunk, liquids and chemicals. A raised lip on the Catch-It prevents liquids and dirt from escaping from the mat/liner. Nifty was really nifty and placed some raised Vyram blocks on top of the mat/liner so you can scrape your boots off. The Catch-It gets cleaned with a paper towel or hose. You get a Nifty Lifetime Warranty too and your choice of black, tan or grey !!!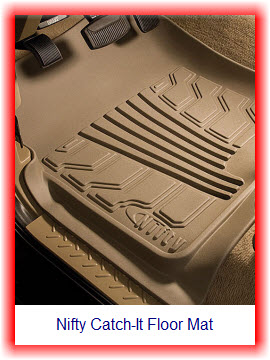 Cleaning Tip: Any rubber, plastic or composite mat that traps water on top of the mat can get your shoes wet between the time they fill with liquid/mud and the time you empty and clean them. A universal absorbent mat prevents this from happening by absorbing the excess liquid. This kind of mat also reduces staining and mold/mildew smells.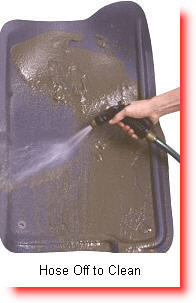 Note: You must have an RSS Reader installed and configured before clicking on the Orange RSS Button. An RSS Reader allows automatic download of changes/updates made to this website without having to visit this page. Saves time, effort and keeps you up to date.


Click Orange RSS Button to Subscribe to Site Updates