Matworks Automobile Mats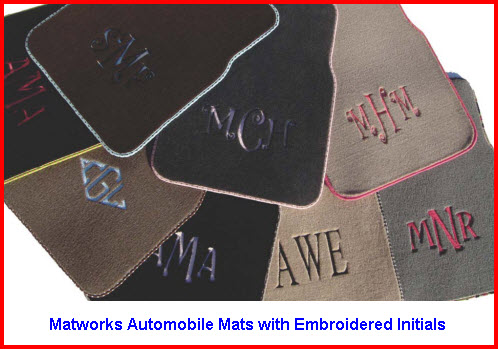 Matworks Automobile Mats manufacture their car mats to exactly fit your vehicles year, make and model. They've got over 4000 patterns in their library to use to ensure that you get a precisely cut piece of their tough, heavy rubber backed carpet for your car or truck.
A non-skid backing on the carpet makes sure your mats do not slide on the floor. You can get these mats embroidered with marine grade thread or jet printed with a durable heat set ink. And Matworks Automobile Mats has 100's maybe even 1000's of car mat logos available to decorate your car floor mats.
These car mats are made of a plush carpet that is waterproof, stain & fade resistant, mold & mildew resistant and are finished with a colorful poly binding. And to top it all off, you get to layout and design what your car mat looks like using the Matworks "Mats By Design" custom mat building utility.

You pick the colors, you pick the embroidery and logos. You can even custom design your own shape, trace it out on paper and Matworks will create a car floor mat for you in the exact shape you want. So, check this out, Here's what you get to pick when you custom create your own special logo floor mats from Matworks Automobile Mats:

(1) Pick an Audio, Performance or Other Logo
(2) Pick the Carpet Color
(3) Pick the Binding Color
(4) Choose the Embroidery Color
(5) Choose Text Style & Text



Car Mat Audio Logos Available
- Alpine, AlumaPro
- Audio Control, Bazooka
- Boston Acoustics
- Cerwin Vega, Clarion
- Coustic, CrossFire
- Diamond Audio
- Directed Electronics
- Dynamat, Eclipse
- Image Dynamics, Infinity
- JBL, Jensen
- JL Audio, JVC, Kenwood
- Kicker
- Lightning Audio
- Livin Loud, Memphis, MTX
- Orion, Panasonic
- Phoenix Gold, Pioneer
- Polk Audio, Polk Momo
- Rockford Fosagate
- Stringer, Street Wires
- Xtant


Car Mat Performance Logos Available
- Ace Alloys, AroSpeed
- AutoMeter, BBS
- BF Goodrich, Catz
- CenterForce, Enkei
- Flex-a-lite, Greddy
- Holley, Intrax, K&N
- Matworks, Michelin
- Nitrous Express
- Ractive, Spal, Tokico
- Vitek, Wings West


---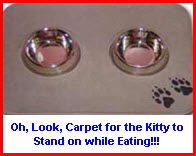 Many Other Car Mats Logos
- Sports, Nautical Images, Horses, Animals
- Football, Poker, Fencing, Basketball, Golf
- Bowling, Archery, Curling, Baseball, Skiing
- Biking, Darts, Soccer, Martial Arts & more … 
- Bucking Broncos, Conestoga Wagons, Cows
- Horse Racing, Bull Riding
- Chickens, Pigs, Sheep
- Cactus, Indian Feathers, Sombreros 
- Sand Dollars, Boats, Sea Horses, Fishing
- Whales, Sea Shells, Life Guard
- Mermaid, Dolphin
- Sailing Ship, Pirates, Anchors, Castles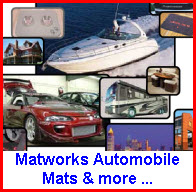 More on Matworks
Matworks makes floor mats for more than just cars. The companys' product line includes Marine, Aviation, Home & Garden, Pets, Promotional, Equestrian, Golf and Motorhome/RV applications. So you can get golf cart floor mats, food dish mats for your cat or dog, floor mats for your boat and almost any other floor mat you can conceive. And if Matworks Automobile Mats Company doesn't have it in stock and ready to go - they'll make it for you to spec. And you know you have to keep your car mats, boat mats, rv mats and all your other mats clean and dry, right? Ok, them you'll need to check out some universal absorbent mat protectors to help you out. These protective mats reduce effects of spills like mold and mildew smells, limit stains on your nice carpeted mats and are super easy to clean up.

Note: You must have an RSS Reader installed and configured before clicking on the Orange RSS Button. An RSS Reader allows automatic download of changes/updates made to this website without having to visit this page. Saves time, effort and keeps you up to date.


Click Orange RSS Button to Subscribe to Site Updates