Jeraco Truck Caps
Jeraco Truck Caps is still a family run business. The company has its roots in the Michigan of the 1960's. The company founder, Harold Fawcett, started out making campers under the brand name WagonMaster.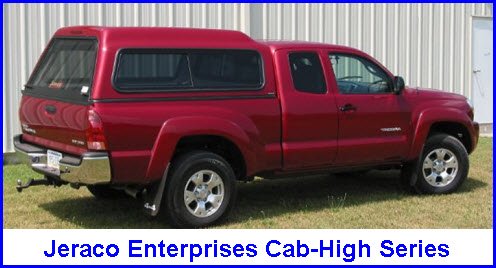 The business evolved into camper tops for pickup trucks and by the early 1970's had outgrew the Michigan facility. 

So the company packed up and moved to Pennsylvania where the current production facility is located just outside of Milton and run by the son and grandsons of Harold Fawcett. Jeraco Truck Caps manufactures both fiberglass and aluminum pickup truck caps with the same care and attention to customer service today as in the old days in Michigan. Here's some detail on each of the product offerings from Jeraco Enterprises but before we go on I encourage you to check out the Jeraco website. Go to the About Us page and read some more history of the company. Check out the great pics of some of the old camper shells and truck caps that Jeraco has made in the past. You just might have to go with Jeraco after you do!
Keep Truck Bed Clean and Dry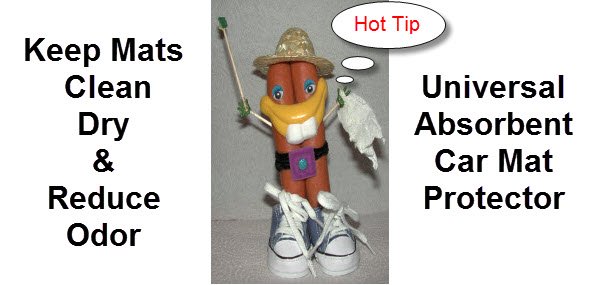 Jeraco Truck Caps - Fiberglass
Jeraco Truck Caps line of fiberglass truck caps consists of 4 series. The Cab-High, the Mid-Rise, the High-Rise and the Supreme.


Common Features
- Reinforced fiberglass structure
- Reinforced base rails
- Front picture window
- Safety glass
- Tinted glass
- 12V dome light
- LED Brake light
- OEM matching paint
- Gas props for doors
- Limited Lifetime Warranty

Common Options
- Sliding or tilt windows
- Radius side doors
- Carpeted headliner
- Clothes racks and rods
- Lights and power blocks
- Roof racks

The Cab-High
The Cab-High Series truck cap is a sleek, contemporary truck cap designed to be tough but still get you all those ohhh's and ahhhh's.
- Dual lock rear door
- Side sliding, screened radius windows

The Mid-Rise
The Mid-Rise Series truck cap from Jeraco gives you a couple of extra inches of headroom that translates into a full size rear door and extra space to store stuff.
- Dual lock rear door
- Side sliding, screened radius windows



The High-Rise
The High-Rise gives you even more headroom and storage than the Mid-Rise Series. It's aerodynamically styled , has an extra large rear door and your choice of side window configurations.
- Dual lock rear door
- Side sliding, screened radius windows

The Supreme
The Supreme is for you SUV aficionados that need to make their pickup trucks into an SUV at half the price. The Supreme has an all glass rear door and contoured, flush mounted, vented side windows to give that SUV look and feel.
- No frame all glass rear door
- No frame tip-out side screened windows

Jeraco Truck Caps - Aluminum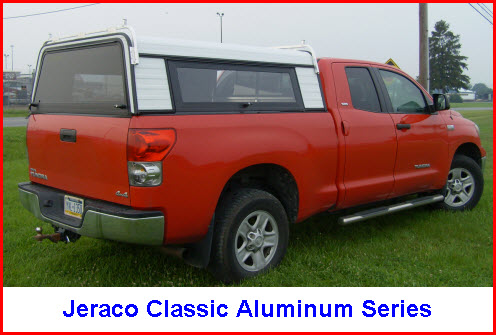 Classic Aluminum Series
The standard aluminum box for the top of your pickup.

 - .019 gauge aluminum skin
- Cap height 21" to 25" depending on truck
- Double Lock Radius Rear Doors
- Automotive quality locks
- Welded aluminum frames
- Gas props
- Front picture window
- Trimmed in black
- Radius Side Sliders w/screens
- white, black, silver, blue, green, red, pewter

Contractors Series
The heavy duty version of the Jeraco Truck Caps Classic Aluminum.
- .030 gauge aluminum skin
- Aluminum tool bins
- Trimmed in black
- Double Lock Radius Rear Doors
- Heavy duty double welded aluminum frames
- Front picture window
- Gas props
- white, gray, black, charcoal, silver

Heavy Duty Commercial
A high quality commercial grade aluminum truck cap that's strong, versatile and affordable.
- .030 gauge aluminum skin
- Heavy duty double welded aluminum frames
- Side door on each side
- Half gate style rear door with gas props
- Choice of 7 colors
- Front pic window
- Rear brake light
- Heavy duty gussets
- Drop T or stainless steel paddle handles


Note: You must have an RSS Reader installed and configured before clicking on the Orange RSS Button. An RSS Reader allows automatic download of changes/updates made to this website without having to visit this page. Saves time, effort and keeps you up to date.


Click Orange RSS Button to Subscribe to Site Updates