Floormats on Safari
Note: As of 19-Jan-2017 we have observed that IntroTech no longer manufactures and distributes this mat. Rather it is made and distributed by Designer Mat International, a company associated with IntroTech. This page has been preserved for historical reference purposes only.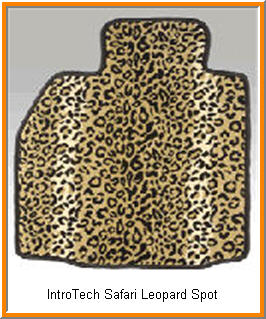 ---
Your Safari Floormats are calling out to you! If you listen attentively you can hear the Cry of Tarzan as you drive down the road with your toes buried in the deep jungle of your Safari theme floormats from Intro-Tech .

These mats are made of extra plush 114 oz. polypropylene carpeting that's stain resistant and long wearing. They are double serged around the edges to prevent your jungle animals from shredding them. A nibbed backing prevents these mats from slipping on your vehicle's carpet. The Safari car mats come in two designs – Leopard Spots and Tiger Stripes for the animalistic needs in all of us. Now, do you hear your car roar?

Of course we all know that not everyone is wild enough or brave enough to put Leopard or Tiger patterns in their car. So for the more conservative and possibly less adventurous of you, IntroTech Car Mats makes a plethora of other types of car floormats including leather, diamond plate, ultra plush carpet, sisal, coconut husk and clear vinyl.

Safari Floormats Additional Features
- Carpet feels like wool
- fashionable design in 2 patterns
- Tiger and Leopard patterns
- stitched vinyl edges
- made from 114 ounce
  polypropylene carpet
- 10,000+ custom fit patterns
  makes sure you get a great
  fitting car mat
- Lifetime Warranty
- Made in the USA
---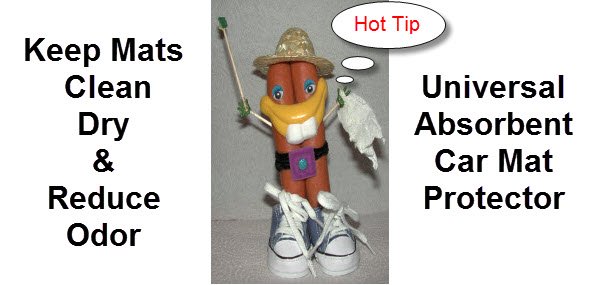 Note: You must have an RSS Reader installed and configured before clicking on the Orange RSS Button. An RSS Reader allows automatic download of changes/updates made to this website without having to visit this page. Saves time, effort and keeps you up to date.


Click Orange RSS Button to Subscribe to Site Updates