Ebco Rubber Mats
Ebco Rubber Mats is a world class supplier of industrial rubber products with warehouses in the USA and Ireland.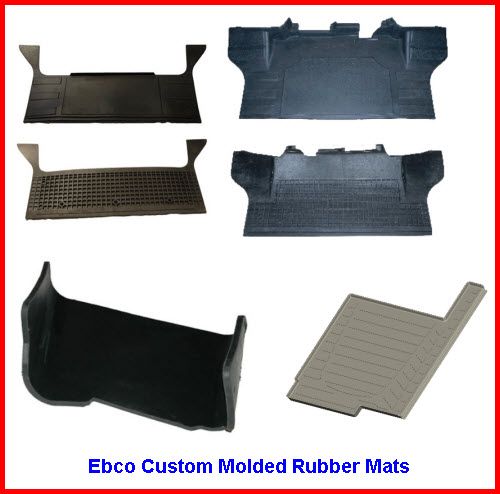 The company has been around since 1951 first as a distributor and then expanding into services (engineering, design & distribution) and warehousing. 
Ebco sources most of their rubber products in Taiwan, China and Malaysia and repackages and services these products in their warehouses. Ebco offers engineering support, design & modeling, testing, quality assurance and distribution assistance for all their products. Of special interest is Ebco's ability to custom design and mold rubber mats from 2 inch square vibro pads to 6 foot square custom industrial cab mats. They can even add a colored name or logo to your custom designed mats.
Additional products from Ebco include :
Bumpers
Edge Trim
Center Bonded Mounts
Cylindrical Mounts
Window Channels
Plate Mounts
Rubber Pads
Center Bonded Bushings
Special Purpose Mounts
Rubber & Cork Pads
Grommets & O-Rings
Seal with Metal Carrier
Rubber, Cork & Metal Pads
Extruded & Flocked Seals
Rubber Boots for Vehicle Shifters
---
Floor Mat Maintenance
Keeping your mats and carpeting as dry and as clean as possible is sometimes a monumental job. Especially in a work setting. Universal absorbent vehicle mat protectors can help. Reduced moisture, absorb spills, pickup dirt and stains and easy cleanup all make these absorbent mats a good idea.
Note: You must have an RSS Reader installed and configured before clicking on the Orange RSS Button. An RSS Reader allows automatic download of changes/updates made to this website without having to visit this page. Saves time, effort and keeps you up to date.


Click Orange RSS Button to Subscribe to Site Updates