Big Rig Chrome Truck Mats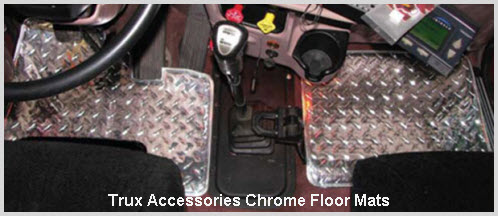 Big Rig Chrome Accessories are THE way to really doll up your big truck. Since this website is about truck and car floor mats though,

I'm going to tell you about chrome floor mats for your truck and your car - sneaky, huh? Note that most of the vendors in my Truck Floor Mats Users Guide that sell chrome floor mats usually sell all kinds of other chrome accessories. So go nuts. Your big rig can't be tooooo shiny, can it?
Big Rig Chrome and Aluminum Too
The Trux Accessories Big Rig Chrome truck mats for Peterbilt, Kenworth, Freightliner, Mack, etc. were some of the nicest chrome truck floor mats on the market. Unfortunately as of 10/15/2014 it appears as if Trux no longer makes these mats and may be out of business. But it looks like your still in luck because Fleet Truck Parts still has some of these babies in inventory. 

So navigate on over to their site and see if they have a chrome floor mat that fits your big rig. Anyway these mats were basically a rubber mat with a layer of chrome foil covered with a heavy duty sheet of vinyl, and all the layers permanently bonded together. The result was a mat that doesn't slip on the floor, is resistant to dirt and gunk, makes you want to look at the floor instead of the road and really lights up the interior appearance of your semi truck vehicle. These mats were an easy cleanup with a mild soap wash, a water rinse and a quick buff with a soft cloth. Maybe one day they'll be back!
Buuuttttt ..... If you really want a REAL MAN's truck floor mat you can try checking out Owens Products Aluminum Floor Mats. You might find that they make one that fits the floor pan of your big rig. And these mats are made of solid aluminum with a hinge to fit the floor pan. So you can clean sticky gunk off with a propane torch and a paint scraper ... or ... maybe forget about the propane torch and use a little solvent and that paint scraper. Certainly don't use the propane torch and the solvent at the same time like I once tried in my really really younger days! But just like Trux, it looks like Owens doesn't make these mats anymore. You might be able find a set at J.C. Whitney though.
As an alternative to Chrome Floor Mats you may want to consider some Aluminum Diamond Plate Floor Mats from Rally Mats. CNC machined to a close specification for your vehicle these mats have superior wear properties(it's hard to rub your heel through aluminum plate) , they don't rust, give you good traction and cleanup quickly with soap and water. So give Rally Mat a call and ask them to make some floor mats for your truck.
Tip: Keep 'em Clean
Using universal absorbent floor mats will prevent water that builds up on top of metallic mats from getting on your shoes. They'll also prevent water from sneaking in between these mats and your carpeting. Then you have a smelly mold and mildew problem. Overall just a good way to keep spills, gunky stuff and dirt off your car floor and shoes.
Note: You must have an RSS Reader installed and configured before clicking on the Orange RSS Button. An RSS Reader allows automatic download of changes/updates made to this website without having to visit this page. Saves time, effort and keeps you up to date.


Click Orange RSS Button to Subscribe to Site Updates