Coconut Husk
Automotive Floor Mats

Note: As of 14-Jan-2017 we have observed that IntroTech no longer manufactures these Coco husk fiber mats. Rather, Designer Mat International (DMI), a company associated with IntroTech has assumed the manufacturing and distribution of this product. The remaining info on this page is superceded by the new info page for DMI. This page has been retained for historical information purposes only. 

Intro-Tech makes automotive floor mats from hand woven natural coconut husk fibers. They attach a vinyl heel pad to the coconut husk mat not to protect the mat, but to protect your nice shoes from being scratched by the coconut husk fibers. These natural material automotive floor mats have a rubber nib backing to prevent the mat from slipping and are bound with color coordinated vinyl edging. This type of mat was popular in the 60's in Porsche's, BMW's and other sporty cars. Today, every environmentally conscious driver of a greenhouse gas emitting vehicle should have a pair of these mats – just to assuage your conscience! Now if these mats would just biodegrade into a Coconut Cream Pie I'd buy a carton of them!


---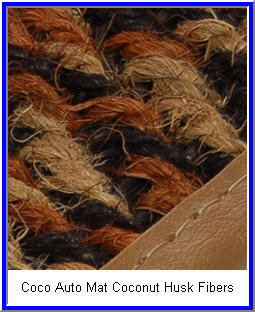 Coco Auto Mat Features:

- available in 7 colors
- matching vinyl heel pad
- rubber nib backing
- made from coconut husk
- custom fit for your car
- mats lay flat and won't curl
- shake or brush off to clean
- Lifetime Warranty
- Made in the USA



---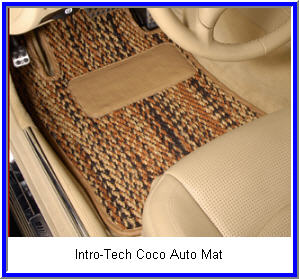 Protecting CocoMats
I know you're eager to show off these fancy coconut mats and I don't blame you! But when it's just you and your mats, you may want to consider protecting them with some universal absorbent floor mats. These mats will reduce sogginess from spills and water, decrease dirt and grime stains, and help prevent mold and mildew problems.

Note: You must have an RSS Reader installed and configured before clicking on the Orange RSS Button. An RSS Reader allows automatic download of changes/updates made to this website without having to visit this page. Saves time, effort and keeps you up to date.


Click Orange RSS Button to Subscribe to Site Updates