Diamond Plate Automobile Floor Mats from Intro-Tech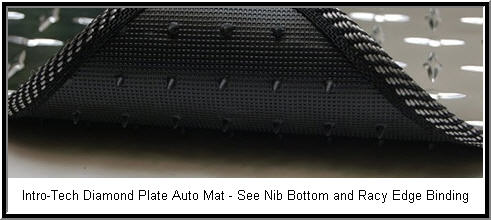 Shiny automobile floor mats from Intro-Tech ? Other than making your car, pickup or SUV look like a race car what would you use these things for? How about lining the inside of your car with them, aiming your windshield into the sun and getting a suntan! Don't forget the SPF 40!

Joking aside, these shiny, diamond plate design automobile floor mats add a sparkly feeling to the inside of your vehicle, no matter the color of your interior. Green, orange, purple, grey, maroon, whatever color your vehicles interior is, these mats match. They are constructed in layers, from bottom to top, of rubber nib backing, a heavy duty vinyl base, a reflective chrome foil layer and a topping of clear coat, anti-scratch vinyl. They are flexible and custom fit to match your vehicles floorpan. The edges of the mat are lined with a racy binding to give the impression of power and speed. If you need the muscular look of diamond plating in a flexible mat, you got it!

Diamond Plate Additional Features:
- over 7000 patterns for
  a custom fit
- hose off to clean
- Lifetime Warranty
- Made in the USA

---
Preserving your Diamond Plate Car Mat Investment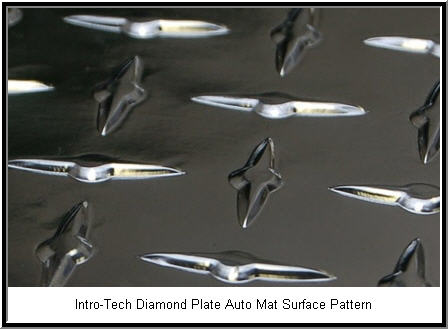 IntroTech Diamond Plate Pattern
The diamond plate mats from IntroTech and others are beautiful to look at, even nice to touch, but as soon as you put your dirty footsies on them they look dirty. Then there's a big cleanup job! So universal absorbent car mat protectors were made to suck up coffee and soda pop spills, shield your diamond plate mats from scratches and reduce the moisture between your shiny, water repellent diamond plate mats and the vehicles carpeting which causes mold and mildew odors. 
Note: You must have an RSS Reader installed and configured before clicking on the Orange RSS Button. An RSS Reader allows automatic download of changes/updates made to this website without having to visit this page. Saves time, effort and keeps you up to date.


Click Orange RSS Button to Subscribe to Site Updates