Auto Floormats Oriental
Ah, Auto Floormats Oriental! It sounds like some entrée you'd get at a Sushi Bar for Cars. But, no, these are  Oriental Auto Floormats made by Intro-Tech with a decidedly Oriental graphic scheme to them. Note: You may also find these Oriental Car Floormats at Designer Mat International (DMI) as DMI has acquired the manufacturing and distribution duties for these car mats from IntroTech.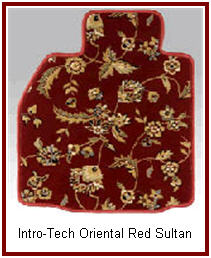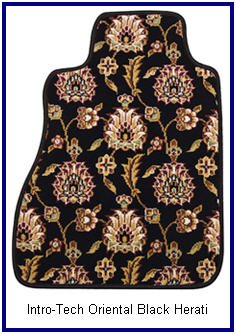 ---
The Oriental Mats are especially nice in a convertible or any other personal transportation vehicle with a visible interior. That way everyone could see the car mats. These mats are made of extra plush 114 oz. polypropylene carpeting that's stain resistant and long wearing. They are double serged around the edges to prevent your black belt karate masters from shredding them. A nibbed backing prevents these mats from slipping on your vehicle's carpet. These car mats come in three patterns reminiscent of the mysterious Orient. Warning! You'll have an uncontrollable urge to see the Great Wall of China if you buy a pair of these mats. 

Oriental Auto Mats Additional Features:
- custom fit with over
  7000 patterns
- carpet almost feels
  like wool
- Lifetime Warranty
- Made in the USA

Care and Cleaning of Oriental Floor Mats
You can prevent  a lot of dirt, stain and moisture problems with your Oriental Floor Mats by using universal absorbent car floor mat protectors. These mats will soak up spills, excess water and mud off your nice colorful oriental mats and reduce mold and mildew smells. If your oriental design mats do get dirty and smelly here's what to do to solve that problem.
Note: You must have an RSS Reader installed and configured before clicking on the Orange RSS Button. An RSS Reader allows automatic download of changes/updates made to this website without having to visit this page. Saves time, effort and keeps you up to date.


Click Orange RSS Button to Subscribe to Site Updates