Access Manufacturing Truck Caps
Access Manufacturing Truck Caps are designed around the Heavy Duty Aluminum Build Tradesman Camper Shell. Each cap is custom built to the customers specification. The company has been family owned and operated since 1972 and several of the employees have been in metal fabrication for a lot longer than that! The company is a national manufacturer of Electric Vehicle Utility Tops and sells to the general public from their company store in Winters, California.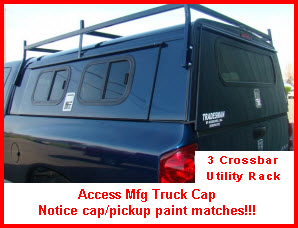 Access Manufacturing has customers in the contracting, service and recreational businesses using their aluminum truck caps for pickups, commercial vehicles, golf carts, electric vehicles and utility beds. In fact the company provides a solution for almost any trade or recreational use you can think of, including making custom aluminum truck canopies for the military version of the Hummer Trailer. Access Mfg. uses thicker sidewalls, tubing and roofs than most of its competitors allowing the company to offer a full 3 year warranty including the framework, exterior sheeting, hardware, paint, electrical, carpet, doors, windows and seals.
---
Access Manufacturing Truck Caps Claim to Fame
Every truck or vehicle topper is made with high grade, heavy duty aluminum and all the functional hardware is heavy duty commercial grade. Every joint in the frame is TIG welded for a superior weld and the strongest and most squeak free truck cap you can get. Style wise you can pick cap configurations like cabover, wedge and sleeper so you get a cap that fits the way you need to use the vehicle. But that's not all … Here's a bunch of the options and accessories you can use to cook up the Access Manufacturing truck caps that's an exact match for not just what you need, but what you've always wanted.

Interior Menu
- Lights, switches, locks, security screens
- Insulation and double skin interior
- Carpet, thermostatic fans, custom shelving
- Toolboxes, shelves, dividers, special lights

Exterior Menu
- Custom heights and widths
- Close match for OEM paint
- Tinted glass, roof vents, extra brake light
- T-handles or paddle handles

Doors
- Single/double/half cargo doors
- Roll-up and special width doors
- All glass doors
- Removable or full open doors
- Side doors in 60 inch or 90 inch sizes

Windows
- Sliding style or picture front window
- Pet windows, front and side sliding windows

Roof Racks
- Boat and canoe
- 2, 3 or 4 crossbar light duty
- 2 or 3 crossbar heavier duty utility

---
Access Manufacturing Truck Caps
Hardcore Info
Model T-100
- Mini or cab high profile

Model T-150
- Mini (24" high)
- Full Size (26" high)
- Short or long bed
Model T-200 (30" high)
- Mini or full
Model T-300 (36" high)
- Mini or full
Model T-400 (42" high)
- Mini or full

Wedge Design
- 24" high
- 26" high
- 30" high
- 36" high
- 42" high
Door Options for Most Models
- Single Cargo Door
- Double Cargo Door
- Removable Cargo Door
- Half Lift-Up Metal Door
- Full Lift-Up Metal Door
- Roll-Up Door
- Rear Side Door
- Driver Side Door
- Passenger Side Door

Sidewall Options
(Driver and/or Passenger Side)
- Standard Blank Sidewall
- Roll-Up Side Doors
- Lift-Up Doors
- Full Length Side Doors
- Double Side Doors
- Tinted Radius Windows
- Pet Sliders
- Tool Boxes
- Shelves & Dividers
Front Wall Options
- Blank
- Picture Window
- Sliding Window
- EZ Clean Slider Window
- EZ Clean Solid Window
Interior Options
- Dark Grey Carpet
- Dome Lights (standard or LED)
- Security Screens
- Insulation
- Interior Aluminum Paneling
- Remote Light Switch
Exterior Options
- 3rd Brake Light
- Roof Vent (white or aluminum color)
- Roof Vent with Thermostat and
  3 Speed Reversible Fan
- Roof Racks
- Paddle or T Handles
- Rotary or Codeable Locks
Gasket Options
- Foam Tape is Standard
- Optional D Gaskets
- Optional Fin Gaskets
Keeping your floor mats, carpeting and truck bed clean and dry
Moisture in the form of spills, water or oil/gas from shoes and boots, dirt and mud from your boots and offroading can sneak in between your car mats and carpeting, and almost permanently reside on your truck bed floor. Reduce the moisture, dirt and resultant mold and mildew problems by using universal absorbent floor mats. These mats are easy to use, protect your Access Manufacturing Truck Caps investment, and cleanup easily and quickly.
Note: You must have an RSS Reader installed and configured before clicking on the Orange RSS Button. An RSS Reader allows automatic download of changes/updates made to this website without having to visit this page. Saves time, effort and keeps you up to date.


Click Orange RSS Button to Subscribe to Site Updates