Miscellaneous Car Mat Manufacturers
Miscellaneous Car Mat Manufacturers / Distributors present insufficient information on the internet to justify the dedication of a webpage. However, many of them have interesting products and deserve a quick look see. You may find something unusual you like, a new idea you can use to customize your own mats or just get an idea of what choices OEMs (like car manufacturers) make for their product lines. Whatever the reason may be, if you know of a manufacturer of car mats, car carpeting, car floor liners, car floor padding or other product applicable to this website, don't be shy. Contact Us and let us know!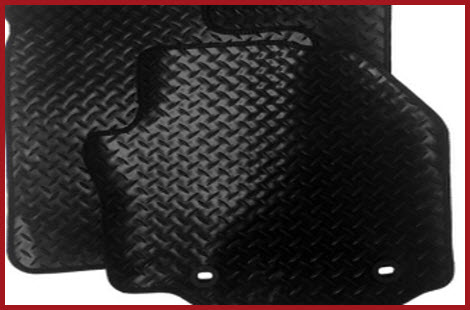 Heavy duty checker plate design is used in the Car Mats King Rubber Car Floor Mat product. Notice the grommets used to support your vehicles existing mat retention system.
---
Miscellaneous Car Mat
Manufacturers / Distributors
---
Car Mat Kings
*United Kingdom*
Car Mat Kings is a UK manufacturer of carpeted and rubber car/van floor mats. Located in Glasgow for the last 35 years or so, the company sources material for their mats from across Europe and provides a custom fit floor mat experience for your vehicle utilizing over 900 vehicle floor pan templates to guarantee the fit.
Rubber Mats are made in a checker plate design with options for regular thickness or upgrades to 3mm and 5mm thicknesses. Universal clips are provided to prevent mat slippage. Hose or wipe down to clean. Made to order in the UK. Available in black.
Carpeted Mats are made from velour carrera carpet with anti-slip coating on the back. A carpeted heel pad prevents wear through. Universal clips are provided to prevent mat slippage. The carpet is available in beige, black and grey. You get to pick a trim colour from red, blue, black or grey which does are great job adding an accent to the mat. You also pick the carpet weight (the heavier the more plush the carpet is) from 600g, 750g, 1000g, 1200g.
EuroCarMats
*United Kingdom*
Euro Car Mats Exact Tailored Fit Line of Carpeted Car Mats are Customized for your Vehicle. And you can buy direct from the factory!
Euro Car Mats provides direct from the factory carpeted and rubber car floor mats for public purchase and consumption. Four styles of velour carpeted mats differentiated by carpet weight (carpet weights are 400g, 550g, 650g, 700g) are offered. Three of the mat styles are universal fit, while the Exact Tailored Fit Model is custom fit to your make and model. The carpeted mats all share features such as non-slip backing, fully bound edges, logo available on drivers mat and black or anthracite colours.
The Euro Car Mats Rubber Car Floor Mat is made from heavy duty rubber with fully bound edges and is available in black. These rubber car mats are designed to provide a closely tailored fit for your vehicle.
Frogum Custom Fit Rubber Car Floor Mats in Black in a Kia.
FroGum Mirosław Frontczak i Wspólnicy Sp. j.
*Poland*
Frogum manufactures rubber car floor mats for cars, vans and trucks. Universal fit mats and mats made to fit specific makes and models are available in black or grey. Features include non-slip backing, reinforced areas where heavy wear occurs, water and mud resistant, and mostly odourless with a slight vanilla smell.
Geyer and Hosaja
*Poland*
Geyer and Hosaja employ 700+ people in 4 manufacturing facilities making rubber products like rubber car mats, tire retreading materials, road safety items and a bunch of other rubber related products. The company makes rubber car floor mats that feature a precise fit, a slip resistant bottom, and a textured top that traps a good amount of liquids and dirt. Geyer and Hosaja's rubber car floor mats have been certified to be free of any harmful substances for human health.
Hexpol TPE
*Sweden*
Hexpol doesn't make car floor mats per se, the company makes the TPE (thermo plastic elastomer) that other companies use to make car mats. The DryFlex AM line of TPE compounds has been specifically engineered by Hexpol to mimic the durability and feel of rubber while still maintaining the ease of manufacturing with a plastic. This line of TPE is scratch and abrasion resistant, non-slip when wet, allows a beautiful surface finish and is 100% recyclable during production. You can barely smell this material so car mats made of this TPE don't require long periods of "airing out" before you place them in your vehicle. Sounds overall like a great product. Maybe it's what your car mats are made of, who knows?
Khurana Industries
*India*
Khurana Industries has been manufacturing carpeted, rubber, vinyl and clear car floor mats since 2007. The company is located in Gurgaon, Haryana, India and markets its products under the trade name Komfort. Besides car mats, Khurana Industries makes such automotive accessories as magnetic car curtains, spoilers, utility trays and body covers.
Both the carpeted, vinyl and rubber mats are made of premium materials. Universal and custom fit designs are available. a nice palette of colours is available for the carpeted mats while the rubber mats are available in beige and black. Clear vinyl car floor mats are also available. In general, the mats use either nibs, anti skid backing or grommets(which fit the posts of your existing mat retention system) to prevent mat slippage. You can get heel pads on many of the models. if you live on the Indian Sub-Continent this company is an option to consider. Outside the Sub-Continent, you can purchase directly from the company website.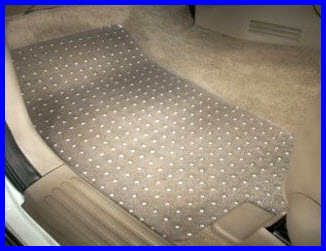 Khurana Industries Clear Vinyl Car Floor Mats.
Paragon Union Berhad Carpeted Car Floor Mats.
---
Paragon Union Berhad
*Malaysia*
Paragon has been in business since 1994 making car floor mats, molded car carpets, dash insulators, pad silencers, rear trays, trunk mats, commercial carpeting and more. The Car Mat line includes such things as car carpeting for the OEM, carpet padding, and insulative materials for vehicle interiors.
High Quality Carpeted Mats are custom designed from various carpet heights, cut or loop, and in nylon or polyester yarn. Serged or bound edges are available as is rubber nib backing to prevent mat slippage.
Unique Car Mats Limited
*United Kingdom*
Unique Car Mats Ltd. is a good example of a full service distributor of custom car floor mats. In business since 1989 Unique Car Mats custom fits car mats, seat covers, wind deflectors, bumper protectors and other automotive accessories to your vehicles make and model. Here's some info on a subset of the car mat line offered by Unique Car Mats.
Carpeted Mats include the Platinum line which takes 17mm(2/3") carpet with a 3050g per square meter weight, adds a colorful leatherette binding, adds grommets to support your vehicles mat retention system and custom fits the whole thing to your make and model automobile. A Bespoke service is also provided to allow you to continue the customization process to your hearts desire.
Rubber Mats 3mm thick are the cats meow for winter motoring. And Unique Car Mats provides just this kind of mat. Of course the rubber car mat is custom fit to your make and model. You get to pick the edge colour from amongst black, grey, beige, red and blue edge trim. And to prevent mat slippage, grommets or mat fixing systems are provided to maintain compatibility with your vehicles mat retention system.
ZPV Rosnov
*Czech Republic*
ZPV Car Floor Mat with Dragon Image. Mat is a rubber/carpet hybrid mat which is very durable and colorful.
ZPV began operation in 1993, merged with Gumotex A.S. in 1998 and has been manufacturing a wide range of car mats that includes rubber mats, carpeted mats and hybrid rubber carpet mats.
Rubber mats made from SBR and channeled to trap snow, dirt and liquids comes in many styles from ZPV. Universal fit and custom fit mats with custom color printing on the mats is available. Raised edges, up to 22mm high help to further trap liquids and keep your vehicles carpeting from getting wet.
Custom Fit Velour Carpeted Car Mats produced from high quality polypropylene and/or polyamide materials form the basis of the ZPV carpeted car mat offering. A water resistant granulate is bonded to the rear of the mat to prevent slippage. The carpet itself is a PP loop or PP tuft weave and comes in 10 colours. Coloured edging and support of your vehicles existing mat retention system is available.
A Hybrid Rubber/Carpet Mat is the bonding of SBR rubber with a PES textile. The result is a very durable mat that you can place colorful designs on and custom tailor to your vehicles make and model. The mat weight varies based on your vehicle. Your vehicles existing mat retention system is supported to prevent mat slippage.
Note: You must have an RSS Reader installed and configured before clicking on the Orange RSS Button. An RSS Reader allows automatic download of changes/updates made to this website without having to visit this page. Saves time, effort and keeps you up to date.


Click Orange RSS Button to Subscribe to Site Updates