Lexus Floor Mats in Sheepskin
Need a set of Lexus Floor Mats? Have you thought about Sheepskin? It's warm and cozy on your feet and if you sleep in your car it's not a bad substitute for a piece of foam rubber and a warm blanky. Tailor made Lexus Floor Mats in Sheepskin from Comfy Inter-American Sheepskin do more than keep your feet warm.
Comfy backs the sheepskin with a layer of foam and affixes a non-slip rubber backing to make a functional car floor mat. You can also have them brand a leather heel pad to your sheepskin to prevent wear through, or not.
Most sheepskin car mats have a nap height between 1" and 2" and you can order them in designer colors to match your vehicles interior. They get dirty real easy, but you can clean them by brushing and using a soap specially formulated for wool. Just in case you thought sheepskin car mats are only available for Lexus, they're not! You can get them custom made for your Bentley, Rolls, Maybach, Pinto or most any other car. If you're feeling guilty about using animal skins, make a contribution to PETA and then go buy the sheepskin mats. That way your feet are warm and your conscience is cozy.
---
---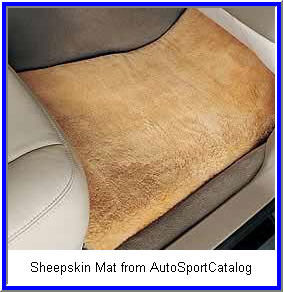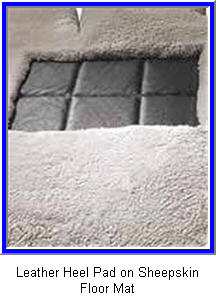 ---
Note: You must have an RSS Reader installed and configured before clicking on the Orange RSS Button. An RSS Reader allows automatic download of changes/updates made to this website without having to visit this page. Saves time, effort and keeps you up to date.


Click Orange RSS Button to Subscribe to Site Updates