JCT Truck Caps
JCT Truck Caps doesn't manufacture aluminum truck caps and tonneau covers out of their facility in Lowville, New York anymore. But JCT does do a bang up install job on the A.R.E. products they distribute. Lowville is about 30 miles southeast of Watertown on NY Rt 12.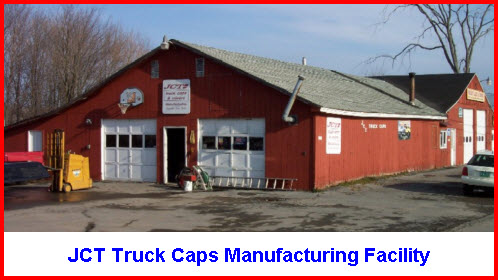 So if you're on vacation fishing in the 1000 Islands or you just live in the area, why not give a local business a chance at installing an aluminum or fiberglass cap or cover for you!


JCT Truck Caps custom aluminum truck cap and truck bed cover business is enhanced by the ability to sell and install an A.R.E. fiberglass truck cap or truck bed cover if you need fiberglass instead of aluminum. But since you're looking at aluminum you need to know that both the caps and covers manufactured by JCT are constructed of heavy duty aluminum with gas props, all kinds of top racks, doors and windows and all the niceties you usually find on a commercially made cap or cover. You can get a cab-hi, wedge or extended size truck topper made to order for your needs whether you're a contractor or a sportsman. But most of all you get personal attention from this company when you order a truck cap or tonno cover. Not something you see a lot of in the world today! Unfortunately JCT doesn't manufacture their own line of aluminum caps anymore. However, you're still in good hands with JCT as they can install an aluminum commercial quality A.R.E. truck cap for you. So support your local business and give JCT a call at 315-376-8177 for all those little gifts you're giving your pickup this year.
Note: You must have an RSS Reader installed and configured before clicking on the Orange RSS Button. An RSS Reader allows automatic download of changes/updates made to this website without having to visit this page. Saves time, effort and keeps you up to date.


Click Orange RSS Button to Subscribe to Site Updates