Curran Car Mats

CurranCAR Car Floor Mats Have Unusual and Colorful Weaves and Designs.
Curran Car Mats have been manufactured by CurranCAR since 2013. The basic idea of the two owners, Jeff Curran and his partner Jeff M, was to bring some style to auto interiors with their stylishly designed and manufactured, car flooring products. The materials they chose to use included synthetic sisal(nylon weave), natural sisal, woven vinyl, coco and wool. Sounds to me like an interesting mixture of natural and synthetic materials that should satisfy the needs of environmentalists and the rest of us adequately.
CurranCAR Mat
Difference
Curran Car Mats may be different than most of the car mats or car floor liners you normally see in the auto parts department of your favorite store or on the pages of the multitude of online automotive parts websites. CurranCAR uses colors, textures and patterns that are unusual. Many of the styles are made from woven vinyl, which is very durable, very fade and stain resistant, waterproof and easy to clean. The synthetic sisal styles are made from rugged nylon weaves. They offer the look and feel of sisal but are resistant to moisture, stains, mildew and bacteria. The nylon weave isn't as fade resistant as the woven vinyl but will still give many years of colorful service. CurranCAR's line of natural car mats offer a classic look and feel as they are constructed from materials such as sisal, wool and coco fiber. All CurranCAR mats are backed with 1/8" thick rubber nibbed matting to prevent the mats from misbehaving and slipping on your vehicles floor. I mean, who likes a slippery mat? Not me!
Standard Features on Curran Car Mats
Note: Standard features vary slightly on Curran Car Mats usually depending on the material used in construction. But here's a summary that covers most of the product line.
Custom Made
Made to order from a custom pattern for your vehicle. Patterns are available for most American, European and Japanese cars, trucks, vans and SUV's. If CurranCAR doesn't have a pattern for your specific make and model, they will work with you to get a pattern. You choose the weave, the weave color, binding color, stitch color and material. Just one consideration or allowance you have to make. Since you're getting everything made to order for you it takes a little longer than picking up a set of universal car mats at Walmart or Target or wherever you shop for this kinda stuff. In fact it typically takes 3 to 4 weeks from the time you complete your order to the time the mats are delivered to your doorstep. Shipping is free if you live in the continental USA. A freight charge is added for all other ship points.
Materials and Components
The basic materials the CurranCAR mats are made from are woven vinyl or nylon, natural sisal, wool or coco fiber. The heavy duty nibbed backing is made of rubber. Heel pads are typically made from vinyl.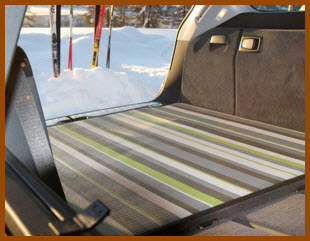 CurranCAR Cargo Mats compliment the aesthetic look and feel of your CurranCAR Car Floor Mats.
Configure Your Mats
Get samples of the various car mat materials, weaves, colors and patterns. Sample swatches have a small fee associated with them. Pick the color of the vinyl binding, the color of the thread that stitches the binding to the mat and the color of the heel pad(s) you want.
Other Stuff
Co-ordinated Cargo Mats
Mat retention system available
Binding available in 7 colors
Stitching available in 8 colors
Free shipping to continental USA
Limited 3 Year Warranty
Cleanup with mild soap & water
(except natural material mats)
Note: You must have an RSS Reader installed and configured before clicking on the Orange RSS Button. An RSS Reader allows automatic download of changes/updates made to this website without having to visit this page. Saves time, effort and keeps you up to date.


Click Orange RSS Button to Subscribe to Site Updates