Feb 23, 17 05:25 PM

Access Manufacturing truck caps may be designed for the heaviest commercial task, for recreational use, flatbeds, golf carts, utility beds and for almost any other kind of vehicle with wheels.
BrandFX Toppers
BrandFX Toppers are manufactured by SNF, Inc. Corporate HQ is in Fort Worth, Texas and the company has over 1,000,000 square feet of manufacturing space and 300+ employees spread throughout the US, the Caribbean and South America.

SNF Inc. makes commercial truck toppers, truck inserts, line bodies and service bodies. These products are all made from FX composite fiberglass (fiberglass laminates with a PVC core) like the stuff they use in military vehicles, race cars, race helmets, sky diving helmets and sailboats, just to name a few applications for FX fiberglass. FX doesn't rust, weighs 50% less than steel and doesn't rust. This FX stuff is durable, strong and last way after the steel starts to rust away. And it's Green! Since it weighs a lot less than steel, it saves on fuel. Here's a little info on each of the major product lines.
BrandFX Everlast Service Bodies
- Primary use in the Utility & Telecom Industries
- Fits Cab to rear Axle (CA) 39-51", 56", 60", 84"
- Aluminum or Steel understructure
- Aluminum floor pans
- 6 to 8 compartments depending on model
- Rounded edges
- Rock guards
- Automotive grade gaskets
- LED exterior lighting
- Corrosion resistant latches, brackets
  and hardware prolong service lifetime
- Use for plumbing, HVAC, mechanical,
  electrical, telecomm, utility, pest control
  and fleet service apps

BrandFX Line Bodies
- Used for dual wheel truck chassis
- Used for tandem axle truck chassis
- Fits Cab to rear Axle (CA)for
  60",84",102",108",120" bodies
- Designed for extreme service conditions
- Choice of steel or aluminum understructure
- Aluminum floor pans
- 6 to 8 compartments depending on model
- Walk-up, Bob Tail variations
- Rock guards
- Automotive grade gaskets
- LED exterior lighting
- Corrosion resistant latches, brackets
  and hardware prolong service lifetime

BrandFX Inserts
- Upgrade to BrandFX Toppers
- Self contained with flooring and sidewalls
- Remove and transfer insert without unloading
- GMC, Chevrolet, Ford, Dodge/RAM and
  GMC pickups for all bed lengths
- Single or dual level shelves
- Shelving, drawer, cabinet & lighting options
- Shelves made of pultruded composite material
- Center mount stop light
- Stainless steel fasteners, hinges & D-ring locks
- Can outlast two or more pickup chassis
- Low cost alternative to conventional vans
- Plus Top or Low Profile designs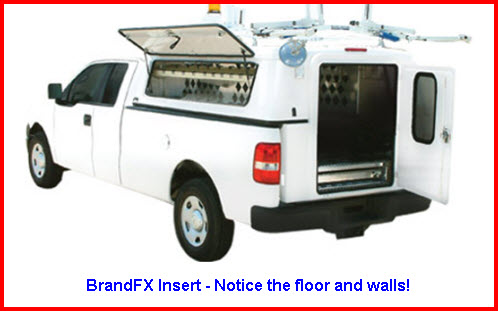 ---
BrandFX Toppers
- Designed for easy
  install/removal
- GMC, Ford, Dodge
  and GMC pickups
- Shelving, drawer,
  cabinet & lighting
  options
- Shelves made of
  pultruded
  composite material
- Center mount stop
  light
- Stainless steel
  fasteners, hinges
  & D-ring locks
- Can outlast two or
  more pickup chassis


Options (depends on model)
- Canopies for additional protection for cargo and equipment
- Cranes, so you can really move things around
- Tailgates & tailshelfs, so you can tailgate, of course!
- Pull out drawers and trays
- Roll tops
- Top boxes and baskets
- Hotstick doors and shelves
- FlexGlo rope lighting
- Bumpers, transverses, compartment shelves
- Ladder and pipe racks
- Backup alarms